JOIN US
The Rogue Valley Classic Cruisers Car Club has approximately 80 families that enjoy classic and custom cars of any make, model or style. We frequently have gatherings where we chat about our common bond - the old cars and enjoy some good food. We usually meet the second Sunday of each month at the Fruitdale Grange in Grants Pass on Rogue River Highway (for those familiar with Grants Pass, it is across the street from Grovers). Social time begins at 3:30, the general meeting around 4:00, which lasts about an hour or so. Normally we have a potluck before the meeting begins. Due to COVID restrictions our potlucks are temporarily suspended. They will return in the near future.

For more information about our next meeting, see the latest newsletter on our site which has the time and place.

If you are interested in joining the club, call or contact us. The club dues are $24 per calendar year pro-rated.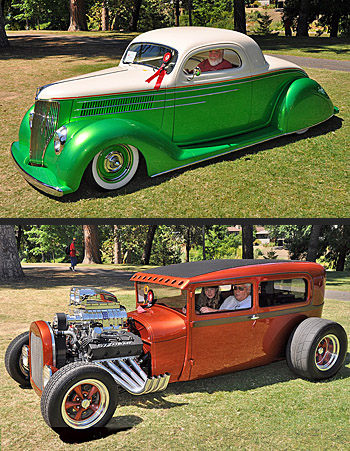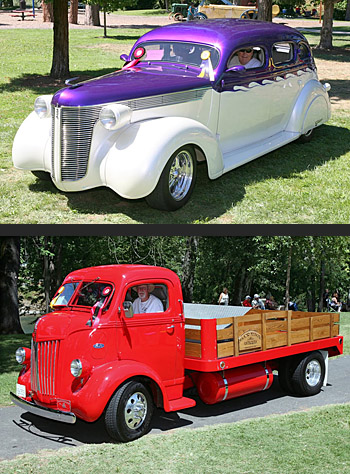 CHARITY CAR SHOW
Our major project is the annual Charity Car Show held the end of July each year at Riverside Park in Grants Pass. It's purpose is to raise funds for local charities and automotive scholarships at Rogue Community College (RCC). We select up to 3 major charities each year and usually are able to present them with a check for up to $5000 in the fall. We also have 2 ongoing $1000 scholarships at RCC. We also donate to several needy charities throughout the year. We have raised over $330,000 for the community from the show since 1996.

Come join the fun bunch, talk about cars and contribute to the community. You will enjoy it!

Below are Club Membership and Donation forms.

DOWNLOAD CLUB MEMBERSHIP APPLICATION

DOWNLOAD CHARITABLE DONATION APPLICATION